Cintropur UV Range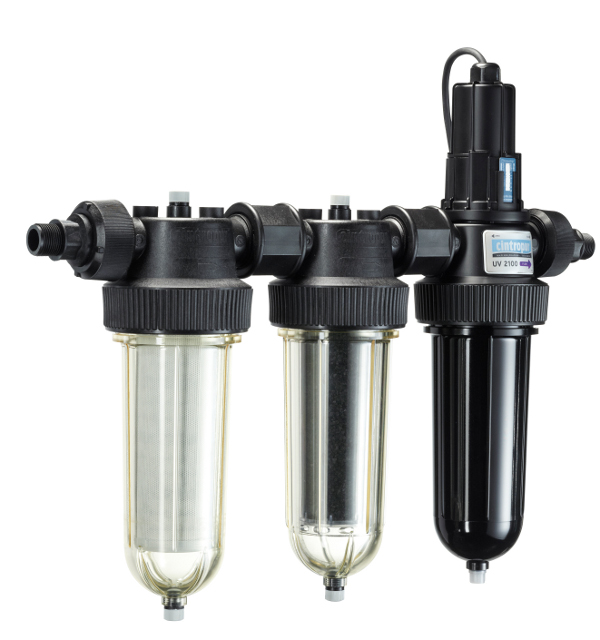 If your main water supply is from rainfall, bore water or spring water collected and stored in a tank (caravan & boats), then Cintropur UV is the best method to bring your water
up to drinking standard.
a) Rainwater: UV-sterilization of rainwater will
allow for a wider range of application and
safe use.
b) Drilling water, boreholes: UV-sterilization
of well water will prevent any pathogenic
contamination.
c) Tap water: UV-sterilization of tap water will
ensure premium quality water satisfying
even the highest demands.
d) Spring water, surface water: UV-sterilization
of such waters will provide constant water
quality in terms of bacteriology.
e) Water stored in tanks (in caravans, boats, etc.) :
UV-sterilization will preserve the healthiness of water kept in tanks.
Areas of use:
a) Residential baths and showers
c) American refrigerators
d) Chilled water fountains
g) Provision of livestock, e.g. chickens,
rabbits, ducks, etc., with drinking water containing no pathogenic micro-organism.
Advantages:

> Easy installation and use.

> 100% physical disinfection by means of

UV sterilization.

> Natural treatment of water without

adding chemicals – thus eliminating the

risk of overdosing.

> No unpleasant tastes or odours in the

water.

> Proven effectiveness against micro-organisms

imposing hazard on human health.

> No toxic by-products will develop.

> Reduced need for maintenance.




> More compact than any other UV-device.

> A built-in flow reducer guarantees optimal

treatment.

> A practical maintenance chart for an

easier maintenance process.

> Each component of premium quality.

> Professional construction.

> Efficient treatment confirmed by biodosimetry

tests.

> Capacity range: 1 to 10 m³/h.

> Possibility of combining UV + mechanical

filter and activated carbon.

Call us for the best prices and advice. Tel:0845 10 80 680 / 01403 701970


All prices are plus VAT and delivery