Ultra Violet (U.V.) Water Filter

UV Water Filters and Disinfection Systems
Pure water is in the DNA of GMAutoflow
In times when the possibility of consuming truly pure water is becoming more and more of a luxury, GMAutoflow is your indispensable partner for an effective purification and softening of your water. It has been known for a long time that the world's water resources are becoming increasingly scarce and their quality is clearly deteriorating. Commercial and industrial companies need pure and soft water to satisfy their customers, employees and even to allow some of their business processes to be carried out in the best conditions. For private individuals too, pure and fresh water means good health for the whole family. Come and discover the water purification and softening system that we offer online. They are manufactured by the best brands and guarantee the production of high quality soft water.

Excellent Ultraviolet Water Treatment



Why should I use a UV water filter?



By using UV Water Filters manufactured by Cintropur, Sita, Viqua and Sterilight, for example, you can be sure that average quality water will be transformed into bacteria free water that is perfectly drinkable and suitable for consumption by the majority of people. All of the models we offer, all of which are world-renowned brands, have specific capacities that we have determined based on our field surveys with our customers. Whether it is the flow rate or the volumes to be treated by our water ultraviolet disinfection systems, we guarantee you capacities that are truly adapted to your needs and that satisfy your budgetary constraints. In times of crisis, we want to satisfy our customers with equipment that is specifically designed for them and that respects their budget, which has already been severely affected by the pandemic crisis. GMAutoflow is your partner in obtaining the best drinking water that will meet your operating specifications.
Discover our catalogue of UV Disinfection Water Treatments and Filters



Don't waste your time looking for the right UV water filter or softening equipment. With just a few clicks you can browse our catalogue to find the model(s) that will enable you to produce the best quality pure and soft water. Whatever the volume of drinking water and the flow rate you wish to obtain, we certainly have the model that best suits your needs. Feel free to check out our new products, which often use the latest and most efficient technology. Get quality spare parts for the equipment we promote. Finally, do not hesitate to contact our specialised advisors by telephone or e-mail, they will be able to answer all your technical questions and will make you benefit from our exceptional commercial conditions.
Check out our range of Replacement UV Spares and our Commercial Water Disinfection Systems.
DOMESTIC UV WATER TREATMENT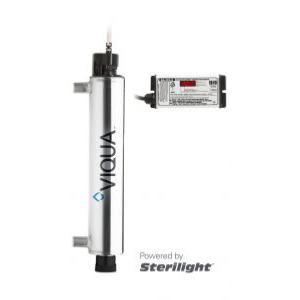 COMMERCIAL UV WATER TREATMENT