Cintropur Industrial Water Filter Systems
Cintropur Water Filters, the choice of quality



Cintropur filters are renowned for their reliability and quality of manufacture. Whether you use them at home, in a commercial environment or in an industrial setting, you can be sure that you will be able to produce clean water, free of any contaminating agent. Cintropur water filters are available in many configurations and in a wide range of filtration capacities. From the simplest to the most complex, they can be used at full load for volumes of liquids to be filtered that you determine in advance. Like all quality filtration systems, they can be chosen according to your actual filtration needs. Several technical solutions can be used alone or in combination depending on the level of water purity you require and the flow rate of the liquid to be consumed daily.
Cintropur Water Filtration Equipment: 3 technologies for maximum purity



When it comes to filtration, you need to consider the quality of the incoming water and the quality you want to obtain at the outlet. It is also necessary to determine in advance the type of liquid to be treated on a daily basis as well as the duration of operation of the filtration system. To obtain the best results and the best water quality, Cintropur offers 3 technologies that can be used together or individually. The first, by far the best known and most widely used, consists of passing the liquid through a filter made of specially treated fibres. The pores of the filter can be larger or smaller depending on the degree of filtration required. The smaller the pore size, the better the filter will be at stopping small contaminants. However, it is important to be aware that the use of smaller pores requires a higher inlet water pressure as the small size of the pores impedes the passage of liquid. The second method of filtration is based on passing the water through an activated carbon filter. This not only filters the liquid but is also able to remove any bad odours or tastes that may be present. This can be the case when the water to be filtered comes from a tank that has been treated with chemicals for example. Finally, the third filtration technique uses ultraviolet light emitted by UV lamps. These rays sterilise liquids and destroy living organic pollutants. This system is widely used in environments that are particularly sensitive to protozoa, such as farming.
Cintropur: the solution for your water treatment!



For all your Cintropur filtration systems use the connection systems recommended by the manufacturer. If they are not supplied as standard with your equipment, consult our catalogue to acquire the ones we recommend. It is indeed detrimental to the quality of your filtration to choose spare parts from other suppliers and especially to prefer consumables that are not recommended. Filters, activated carbon refills and UV lamps must be carefully selected to be compatible with your installation and above all to provide the best level of hygiene.
We supply all Cintropur accessories and spare parts, if you cannot find what you are looking for, please contact our sales department on 0344 557 2654 or 01403 710970. All prices are plus VAT and delivery.
Make sure to browse our ranges of Cintropur Industrial Filters and of Cintropur lamps and filter sleeves and our Cintropur Domestic Range.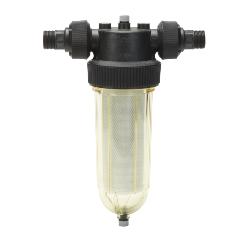 Cintropur Domestic Range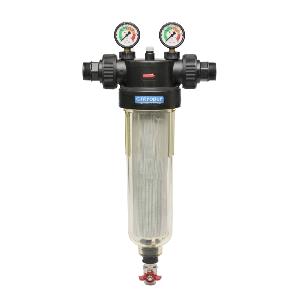 Cintropur Semi-Industrial Range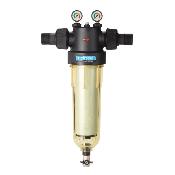 C
intropur Industrial Range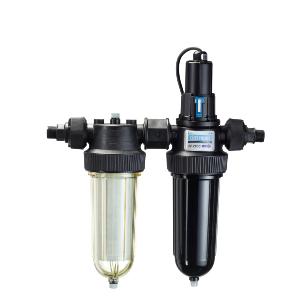 Cintropur U.V. Range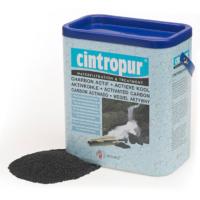 Cintropur Carbon & Spares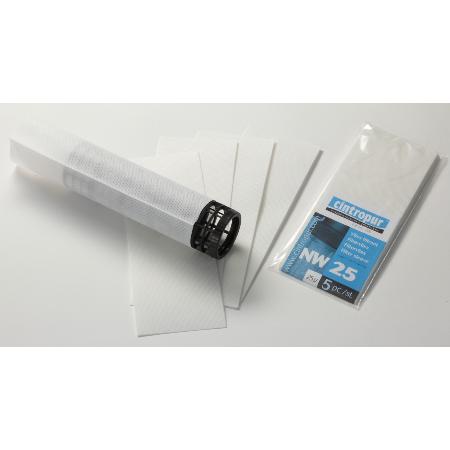 Cintropur Lamps & Filter Sleeves
---
Basic Principle
With more than 35 years of experience, CINTROPUR® has based its reputation on quality products in the water filtration business.


The brand name CINTROPUR® refers to a wide range of centrifugal filters for clean water (fittings from ¾'' to 3''. Flow rates from 1 to 50 m3/h).

The aim is to remove all the solid particles suspended in the water (earth, sand, rust, etc.).
A second range of products offers water treatment solutions with activated carbon or polyphosphates, silicates and silicon-polyphosphates.
CINTROPUR® offers a double-stage of filtration concept.
First, the water flow from the inlet is directly transformed into a centrifugal spin forcing the larger particles down into the lower bowl. The next stage of filtration is achieved by the exclusive filter sleeve, available in different finenesses ranging from 5 up to 300µ.
Cintropur Features:

High flow rates and low pressure drops provided by the unique CINTROPUR® concept.
Only a filter sleeve is to be replaced every 6 months, making the CINTROPUR range economical and ecological.

Made from a first-class quality synthetic material, CINTROPUR stands out by its robustness and reliability.

centrifugal effect created by spinning

low pressure drop

constantly high flow rate

disposable or washable filter sleeve

ecological and economical filtration methods